Ebook landing page – the easiest way to improve popularity!
It doesn't matter if you sell ebooks, prepare their reviews or guarantee users with other activities related to digital novelties, documentaries, etc.You need to find a way to increase the traffic at your page thanks to which there will be more customers interested in what you offer.
One of the best ways to do such thing is to help your main website with an Ebook landing page. In this article we will briefly talk about the creation of static page,and its importance. What is more, the following article will give you a glimpse of what to focus while making the right Ebookdestination page.
What is it and why does it seem to be so important?
Ebook landing page, just like any other landing page, provides you with a very clear, transparent, and user-friendly site that is the first thing your potential customers see when they click one of your advertising materials. It works as a trailer of your services with the biggest summaries and catchy phrases, and the most important information.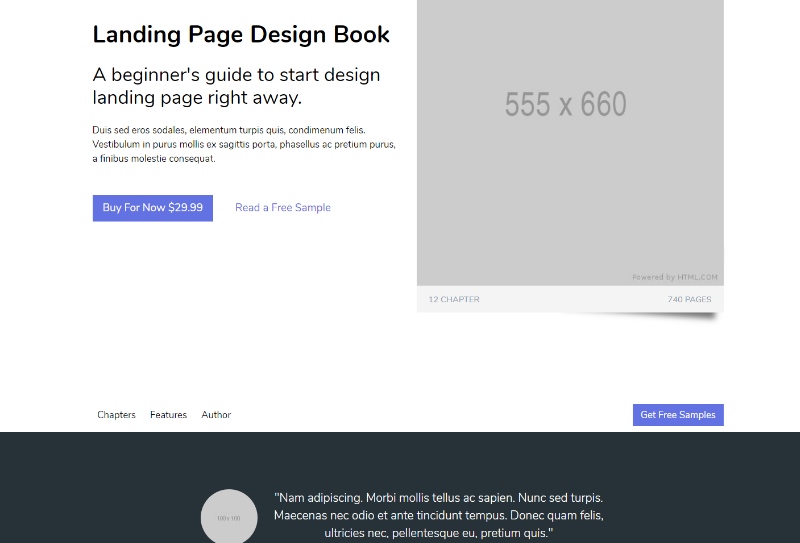 The goal of a destination website is to arouse interest of the user with a product, services, or an application that you have got to offer. In case of e-books, it can also provide potential customers with the list of the most popular digital books and novelties that appeared on the market in last year or in last decade.
Interestingly, if you just offer rental services or any other type of e-book-related products, you can present it and show why it is a good idea to use your main page. In general, the main goal is to make sure that people will find your web page interesting and that they will know what to do once they enter it.
5 keys elements you should all include in your Ebook static page
There are 5 different features that we have to take into account while creating landing page for ebook services.
The first one is Unique Selling Proposition. The possibility to present the essential elements of our page in one sentence allows potential customers to clearly and quickly understand what they are about to get. You have to guarantee a very catchy Main Headline, a Supporting Headline with also short, yet more descriptive content, and then reinforcement statement. Of course, we cannot forget about Closing Argument.
USP is not the only fragment of lead capture page we need to take care of. It is also very important to prepare Hero Shot. As we all know, picture can be worth a thousand words. This is exactly why people love observing imagesin general, especially with products they crave. Hero Shot is just that.
After Hero Shot, we need to prepare the list of Benefits. Or, if you want to familiarize users with genres you have got to offer, your lead capture pagefor ebook website should provide categories of books and most popular examples.
Social proof basically reminds us that the benefits or advantages posted above, as well as social proof with the digital books or other content we may offer. The last fragment we should all remember is the Conversion Goal, known as Call to Action. Usually, it's a phrase with hyperlink or a button that redirects onto our main page or to a contact window.