How to make sure your electronic services are well known around the world? Electrician landing page is a way to go!
If you don't know what lead capture pageis, let us quickly explain. As we all know, advertising products or services on the Internet is very different from what we could observe in TV. In here, we have to use e-mails, banners, even social media where we can offer people our services.
Nevertheless, creating a large and filled with enormous amount of data site will most likely scare all the potential clients. It is all due to the very simple reason, which is laziness. People are extremely lazy and if they are to read thousands of words of text, they will simply resign. This is why you need an Electricianstatic page.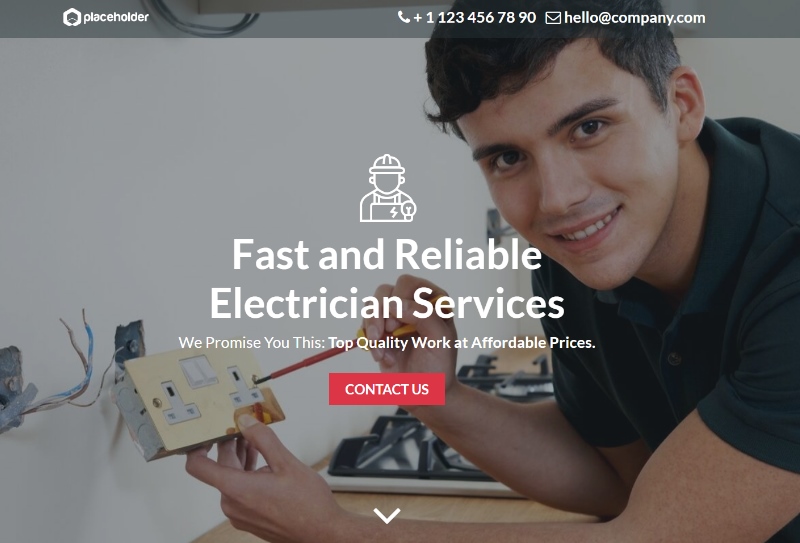 Electrician landing page and the advantages of forming one
Everyone, who already created such site will tell you about the attractive look it has. This is the first benefit of using it. Clear access to all information is crucial for everyone. Besides that, we should also remember that you can use your Landing page for Electrician services in order to gather contact info for your future ads.
Besides simplicity, we should also remember about the possibility to present others with our services. Do you specialize in repairing automated gates or air conditioning? Do you provide a full service that starts from the concept or a project and give your clients with a perfect execution until the end? This is a way to quickly list all your skills!
Many people tend to include inquiry forms on their websites. In this way, you can establish a better contact with customers and, therefore, present another benefit of using your services.
The most common mistakes people make while creating Electrician destination page
Avoid complex solutions and descriptive content
When we create the so-called destination page, we have a very simple goal – to make it easy to look at. Besides that, we should also remember about user-friendliness, catchy phrases, and short but informative description of what you can offer. Obviously, to ensure all these four aspects, you have to follow a specific UX design.
Prepare a simple, yet informative page
In order to create a working Landing page for Electrician services, you should prepare your landing page based on a layout which is familiar to users. One needs to catch their eye for longer than several seconds, because as studies show, we only have several seconds to convince customers to stay on the page and get to know with its content.
Ensure USP, Hero Shot, Benefits, Social Proof and CTA
These are five crucial segments that every single page we create should follow. Thanks to them, we can implement every key element onto our site without clogging it with unnecessary data. Very often it results in lowered page speed, which also indicates poor UX and bad design overall.